Using your phone to interact with your vehicle is a time saver, whether you use an iPhone or an Android. There could be several reasons for Tesla's software not working. Tesla app not showing car, maybe some of the most annoying issues.
Perhaps the application is down, or it is undergoing maintenance. However, the most common issue is that the application does not open. It can be significant, particularly those who rely on it daily
How to fix : Tesla App not showing car
The most common solutions for this problem are listed below.
Wait a few moments as the application might be in repair mode.
Perhaps the server seems to be down, so please be patient.
Examine Your Internet Connection
The App should be updated
Reboot Your smartphone
Examine the device's date and time settings
Examine the device's compatibility
you should update the device
Clear the app cache file via the app Settings
You can contact the EV App Support team if none of these solutions work.
If you are having problems with Bluetooth connectivity, take the following steps:
Delete and disconnect your device from the Bluetooth settings screen in your automobile.
Remove the car from your Bluetooth settings on your device.
Try reconnecting your device to your EV screen.
You can use your android or iPhone to interact with your car. If your Android phone isn't conversing with your car, there seem to be a few quick fixes you can try to get it paired.
To begin, turn on Bluetooth and toggle it on or off several times. If that doesn't work, try switching to airplane mode.
Choosing not to optimize the App on your mobile for entirely new Android versions may place more emphasis when using it as the phone key for your vehicle. Do this by selecting "Don't Optimize."
However, an iPhone update could disturb the pairing of your mobile to your EV. First, ensure that you have the most recent update of the software.
With a new iPhone, you should first disconnect the old one before connecting to the new one. As with your Android phone, you can try turning Bluetooth and airplane mode on to see whether these steps allow your phone to connect.
Read Also: [Fix] 540 Vehicle Server Error On Tesla Easily
When transferring ownership of Tesla
Tesla's software is the company's official smartphone app, allowing owners to attach their mobile phones straight to their cars and access various controlled features. It is accessible for Android and Apple devices and free to download.
Buying your car from Tesla will automatically pair with your Account and the Tesla's app. There are no additional-required steps. If you did not buy the car from Tesla, you should claim ownership through your mobile app.
If a vehicle still is linked to the previous user's EVs Account, Tesla will inform them through email to verify the transfer. The company will analyze your documents to confirm ownership if you cannot reach the previous owner.
If you did not buy your automobile from Tesla, you should consider requesting the previous owner remove the car from their Tesla Account while the ownership transfer is in progress.
You can also disconnect mobile access via the vehicle touchscreen at any moment by tapping 'Safety' and then unchecking 'Allow Mobile Access.'
You can also remove a vehicle from your account using the application. Please remember that supercharging credits, upgrades, and a few other features might not be transferable if you transfer ownership.
Following the removal, you can find your previous ownership documents, lease/loan documents, and receipts in the 'Previously Owned' section of your EV Account.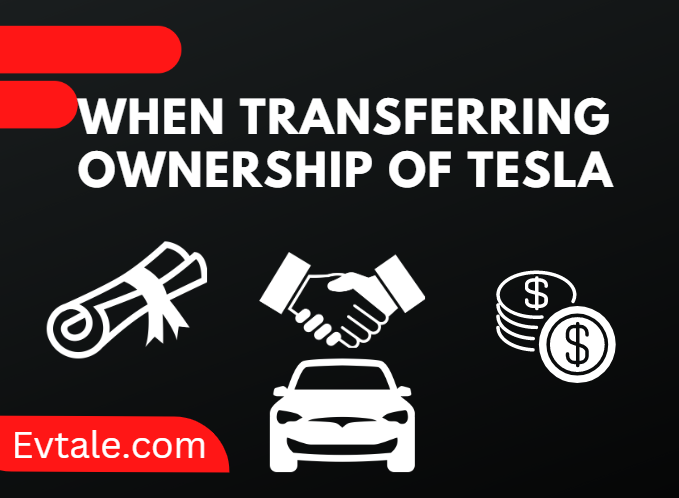 When your new Tesla doesn't show up on your account
Your Account contains owner resources, guides, and critical updates. Using the application, you can do anything from monitoring your car and energy consumption to transferring ownership.
To be paired with the software, your car must be linked to your application. Understand more about removing and adding products if you recently bought a vehicle.
The application allows you to access your motor anywhere as long as your mobile and EV vehicle are connected. Install and sign into the application. Tap 'Controls'> 'Safety'> 'Mobile Access' from your vehicle's touchscreen to enable mobile access.
You can check the condition of your car, lock or unlock it, manage climate control, and more via the EV app home screen. Your vehicle accepts three kinds of keys: phone, key cards, and key fobs.
The EV Shop sells backup key fobs and key cards. With a Bluetooth connection to your vehicle, your mobile helps as your primary key.
Follow the steps in the application to set up your phone key in a matter of seconds. To finish configuring your phone key, you'll require one of your key cards. Select your model from the list below to view step-by-step instructions for configuring your phone key.
Conclusion
Certain high-data-usage vehicle features, such as maps, navigation, and voice commands, necessitate at least Standard Connectivity.
Access to cellular data-enabled features and third-party licenses are subject to change. Please find out more about Standard Connectivity and any limitations it may have.
The availability of features varies depending on the model, configuration, and connectivity plan, among other factors. Over-the-air software updates allow for the addition of numerous features.
The application is occasionally outdated and must be upgraded to the latest version. If you do not use the most current edition, you may experience connectivity issues.
In the coming years, the application may be capable of showing information about your car instantly. If this development is realized, you may not need to wait for your vehicle to wake up before viewing its state of charge or range. This data will appear almost immediately after you open the App.