If you're lucky enough to have a Tesla wall connector installed in your home, congratulations! You can take advantage of superfast charging speeds.
But what if you don't have a wall connector? No problem! You can still use your Tesla by using a NEMA 14-50 adapter.
While not as fast as the wall connector, the adapter will still give you a significant charge boost. So which one should you choose? Let's take a closer look at the pros and cons of each.
Tesla Wall Connector Features and Cost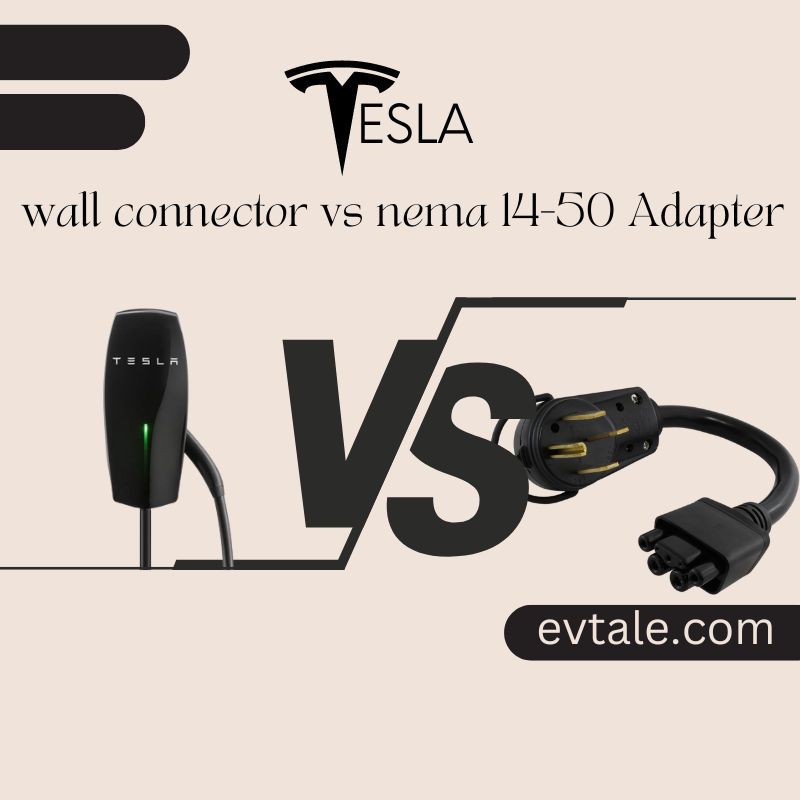 This is a home charging solution that lets you plug your vehicle in overnight and start your day charged. It is an efficient and convenient way to charge your Tesla, and it comes with everything you need to get started.
This is easy to install, and it comes with a standard J1772 for compatibility with all Tesla vehicles. It also has an adjustable cable management system that helps keep your cords organized and tidy.
This is the best way to charge your car at home, and it will make sure that you never have to worry about running out of juice on the road.
1. Speed
This is a high-speed charging option for Model S, Model 3, Model X and Model Y owners. With up to 44 miles of range per hour of charge, it's one of the fastest home charging options available.
With up to 11.5 kW / 48 amp output, it can provide a full charge in as little as 8 hours for some models.
This also features an easy-to-use interface and comes with everything needed for installation, making it a great option for those looking for a fast and convenient way to charge their car.
2. Convenience
It is one of the most versatile and convenient charging options for Tesla owners. Its unique ability to adapt to most home electrical systems, with customizable power levels on a range of circuit breakers, makes it ideal for installation in most homes, apartments, condos, and workplaces.
The lightweight 24-foot (7.3 meters) cable also allows the Mobile to be left in the car, making it even more convenient.
3. Connectivity
It is designed for easy installation and reliable operation. In addition to its simple, sleek design, this also offers enhanced connectivity features. When connected to a local Wi-Fi network, it can receive over-the-air firmware updates, remote diagnostics access, and usage data tracking capability.
This means that users will always have the latest version of firmware and that Tesla can provide diagnostics and troubleshooting assistance if needed.
The usage data tracking capability is also useful for monitoring energy usage and identifying potential areas for efficiency improvements. Overall, this is a reliable and user-friendly option for charging your vehicle.
4. Power Sharing
One of its key features is power-sharing, which allows up to four connectors to share power from one circuit. This is ideal for households that need to charge more than one vehicle at the same time but may not have enough power for multiple electrical circuits.
When charging multiple vehicles, it will automatically distribute the power evenly between them. This ensures that your vehicles receive a sufficient charge, without overloading your electrical system. The power-sharing feature also makes it easy to expand your home charging setup as your needs change.
Whether you're adding another Tesla to your household or simply want the peace of mind of knowing that you can charge multiple vehicles at once, the power-sharing functionality makes it a versatile and convenient option.
5. Access Control
The Tesla Wall Connector is a state-of-the-art charging solution for your vehicles. One of its most useful features is the ability to control access to charging. This can be done through the commissioning wizard, which allows you to set charging limits and restrict access by vehicle.
This is a great feature for owners who want to ensure that only authorized users can charge their cars. It also helps to prevent accidentally overloading the charger, which could cause damage to the unit.
Overall, the Access Control feature is a valuable addition that provides peace of mind and increased security for owners.
6. Indoor/Outdoor Compatible
The Tesla Wall Connector is a versatile and easy-to-use charger for your electric vehicle. The lightweight design allows for both indoor and outdoor mounting, making it convenient to use no matter where you are.
This features two charging ports, so you can charge two vehicles at the same time. And the built-in display shows the charging status, so you always know how much power is left in your battery.
Whether you're at home or on the go, this is the perfect way to keep your electric vehicle charged and ready to go.
7. Charging Speed
The charging speed is one of the fastest on the market. The Model S can charge at up to 41mph, while the Model 3 and Model Y can charge at up to 44mph.
The Model X is slightly slower, with a maximum speed of 35mph. However, all of these charge speeds are approximate and may vary depending on the specific vehicle and charger. In general, though, These chargers are some of the quickest and most efficient on the market.
8. Installation Cost:
The cost of the Tesla Wall Connector is $400, and installation pricing can vary depending on your electrical system.
Installation can range from $750 – $1,500, but if there are additional items needed to complete your installation, the price may be adjusted accordingly.
Read Also : tesla wall connector vs third party
NEMA 14-50 Adapter
If you've ever wished you could plug your Tesla into a standard outlet, your dreams have come true with the Gen 2 NEMA Adapter.
Now you can use a variety of household outlets to charge your Tesla. Simply attach the appropriate adapter to your Mobile, plug into the corresponding outlet, and begin charging.
Whether you're at home or on the road, there's no excuse not to keep your car charged and ready to go. So next time you're looking for a place to plug in, don't be afraid to try a little ingenuity – with the Gen 2 Nema Adapter, almost any outlet can become a charging station.
1. Charging Speed:
Looking to charge up your Tesla fast? Then you'll need a NEMA 14-50 adapter. But what's the difference in charging speeds between the various models? Here's a quick rundown:
The Model 3 SR can charge at up to 30MPH, making it the fastest option. The Model S is a close second, with a charging speed of 23 MPH.
The Model X is a bit slower, at 20 MPH, but still perfectly adequate for most purposes. And finally, the Model Y rounds out the bunch with a speed of 29 MPH.
So, there you have it! Now you know which NEMA 14-50 adapter is right for you, depending on how fast you need to charge your vehicle.
2. Cost:
NEMA 14-50 Adapters are a must-have for any home improvement enthusiast. At just $45, they are an affordable way to improve the look of your home.
With a NEMA 14-50 Adapter, you can add an extra layer of protection to your electrical outlets.
They are also easy to install, and they come in a variety of colors to match your decor. If you're looking for a way to add a little bit of style to your home, a NEMA 14-50 Adapter is the perfect solution.
How to choose : Wall connector vs NEMA 14-50 Adapter
Choosing between these two can be difficult. They both have their benefits and drawbacks.
The wall connector is more expensive, but it charges your vehicle faster than the NEMA 14-50. It also looks nicer and is more aesthetically pleasing for your home. If you are traveling more than 100 miles a day, we recommend the wall connector.
The NEMA 14-50 is cheaper, but it charges your vehicle slower than the wall connector. It also uses the mobile connector that comes with your vehicle when you purchase it.
If you are charging your vehicle overnight and traveling less than 100 miles a day, the NEMA 14-50 is a great option.
In Summary:
There are a few pros and cons to consider when deciding between the wall connector and the NEMA 14-50.
The pros of the wall connector are that it is nicer looking, the mounts on the wall are weather-resistant, and allows you to keep your mobile connector in the car.
The cons are that it is $240 more than a second mobile connector and 14-50 plug, and does not have load-sharing capabilities.
The pros of the NEMA 14-50 are that it is less expensive, has load-sharing capabilities, and can be used outdoors.
The cons are that it is not as nice-looking or weather resistant as the wall connector, and does not allow you to keep your mobile in the car.
In conclusion, the pros of the wall connector outweigh the pros of the NEMA 14-50. The main reason to choose the wall connector would be if you want a nicer experience and are willing to pay more for it.
Otherwise, the NEMA 14-50 would be a good choice because it is less expensive.
You may want to check : Tesla Wall Connector Vs Juicebox and Tesla Wall Connector Vs ChargePoint [Guide]